Back in December, we reported on a new graphics driver that went a long way toward fixing Intel Arc's DX9 performance issues. Now comes news that a new bottleneck has been identified and a fix for that is incoming, too.
According to PC Games Hardware (via Videocardz), its sources say Intel has spotted another issue holding back the performance of Intel Arc GPUs, including the Intel Arc A770, that can be fixed with a driver update.
If that's the good news, albeit for now entirely uncorroborated, unfortunately there's no information on what exactly the problem is and how long before we might see a fix.
Still, there are a few things we can say for sure. First, by most analyses Intel's Arc GPU hardware is a solid effort. Second, its real-world performance has lagged behind reasonable expectations derived from the hardware spec. Third, Intel has already released at least one driver that delivered a major boost.
On the third point, in CS:GO that December driver dump boosted 1080p average frame rates by 80% from 177fps to 318fps. Even better, the 99th percentile performance jumped by 130%.
All of which means, we can confidently say that Intel's Arc GPUs left plenty of available performance on the table at launch, some of which has since been unlocked. So, it's reasonable to think there may be more significant performance gains to unlock.
More broadly, it's also reasonable to think the work Intel is doing now in the first generation of Arc graphics, codenamed Alchemist, should also apply to a rumoured Alchemist+ update and the second generation GPUs, known as Battlemage and which could arrive as soon as the beginning of 2024.
If so, Battlemage has a much better chance of being a truly competitive alternative to AMD and Nvidia graphics cards. And goodness knows another player in the GPU market would be welcome. If anything will help push prices back towards something approaching sanity, a three-way fight for gamers' attention could well be it.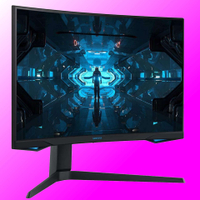 Best gaming monitor: Pixel-perfect panels
Best high refresh rate monitor: Screaming quick
Best 4K monitor for gaming: High-res only
Best 4K TV for gaming: Big-screen 4K PC gaming