Explore The Chasm with these Genshin Impact 2.6 guides
Genshin Impact Lost Valley: Unlock the new domain
Genshin Impact banner: New characters
Genshin Impact Ayaka: Frostflake Heron
Genshin Impact Ayato build: Ayaka's big bro
Genshin Impact Venti build: Drunken bard
Looking for details about Genshin Impact 2.7? After the version's initial delay, things are finally back on track with an update arriving a little later in the month. It may not be Sumeru, but there'll be new content in the form of an Archon quest, events, and two new characters: Yelan and Kuki Shinobu.
Just as leakers predicted, Arataki Itto and Xiao are back for reruns, so that's some sad news for those who wanted Klee and Kazuha. But hey, you'll be getting Heizou in version 2.8 and he basically looks like Kazuha in a wig. The main quest of Genshin Impact 2.7 sees the Traveler trapped in the Chasm, and they'll have to fight their way out by completing a variety of challenges.
There's also a new rhythm-event, a robot-building event, and some handy quality of life changes that let you view players statistics in relation to talents and artifact stats, helping you decide talent priority when ascending characters, and how to ideally build them. That said, here's everything you need to know about the Genshin Impact 2.7 update.
Release date
When is the Genshin Impact 2.7 release date?
The Genshin Impact 2.7 release date is May 31. Though it was delayed indefinitely for a while, the schedule is now back on track. It also looks like the new version will shorter than previous ones, with fewer events to seemingly correct the update schedule for 2.8.
Characters
Who are the new Genshin Impact 2.7 characters?
We're getting two new characters in Genshin Impact 2.7 and two reruns:
Yelan
Long-rumored and recently revealed, Yelan is a five-star Hydro archer headlining version 2.7 as the first banner on May 31. She's basically a spy for Liyue Harbor's Ministry of Civil Affairs and focuses on speedy attacks, with a Transistor-esque skill that lets her run through enemies tagging them. She'll also have a story quest on release.
Kuki Shinobu
Deputy leader of the Arataki gang, Kuki is a four-star Electro support character who can heal her party. She'll be available in the second half of version 2.7 on Arataki Itto's banner. There is also a new hangout event coming for her.
Arataki Itto
It hasn't been long since Arataki Itto released, but the five-star Geo damage-dealer is back for a rerun in the second half of version 2.7. Itto's main strengths are his Arataki Kesagiri slashes and the Raging Oni King super state that he can activate with his burst.
Xiao
Another five-star who had a recent rerun, the demon-hunter is back again in the first half of version 2.7. Xiao's playstyle is all about speed and plunging attacks, with his Lemniscatic Wind Cycling letting him zoom around the battlefield, and his Yaksha Mask buffing his jumps and AoE damage.
Events
Genshin Impact 2.7 events
Though not as many as usual, there are still plenty of events coming in 2.7:
The headlining activity is the new interlude Archon quest Perilous Trail that strands us in the Chasm with Yanfei, Yelan, Arataki Itto, and Kuki Shinobu. Xiao will also be hanging around conducting his own investigation into the history of the Yakshas and their role in the fate of the Chasm 500 years before.
As we progress the Realms of Guile and War challenge will unlock. There are four Domains to try out using up to three Stratagem buffs to strengthen your party. You'll also have to switch characters between each challenge, but a selection of trial characters will be available for use. Complete the challenges for currency which you can use to purchase the event-exclusive, four-star Fading Twilight bow.
Next up is another rhythm-game event: The Almighty Arataki Great and Glorious Drumalong Festival. We'll be playing songs using a big ol' drum, but it looks pretty tough in comparison to previous events. The format of the rhythm game has changed to be more scroll-based, with notes descending towards a beat line at the bottom of the screen. You'll also be able to create your own beatmaps for songs to send to friends, but like the Divine Ingenuity event, you'll have to be able to complete it yourself in order to share it.
There's the follow-up to the Shadow of the Ancients event called A Muddy Bizarre Adventure. This time the Pursina Spikes are being used to get rid of that creepy Chasm mud, so you'll have to defend them while they do their thing. Lastly, there's a more chill event called Core of the Apparatus, where you'll build your very own robot to put in your Serenitea Pot.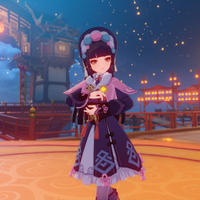 Genshin Impact guide: Beginner tips
Genshin Impact characters: Full tier list
Genshin Impact code: Redeem for free rewards
Genshin Impact banner: Every character