Best of Minecraft
Minecraft update: What's new?
Minecraft skins: New looks
Minecraft mods: Beyond vanilla
Minecraft shaders: Spotlight
Minecraft seeds: Fresh new worlds
Minecraft texture packs: Pixelated
Minecraft servers: Online worlds
Minecraft commands: All cheats
Seeking the best Minecraft castle ideas for a new build? We've rounded up a handful of designs, tutorials, and blueprints for you to corral your favorite blocks, and raise up your very own castle. Whether it's a cliffside fortress, a teetering tower sanctuary, or just a humble walled hamlet—we've got you covered with ideas.
If you're lassoing up some ideas to spur your creativity, we've got herds of time-lapse builds below, but we've also taken the effort to include some map downloads for many of the larger builds too. It can be a herculean undertaking to construct yourself a full size castle, but just like any ambitious Minecraft builds, you'll swell with pride at the results.
For anyone not ready for the dizzying heights that your very own castle can rise to, ponder instead some Minecraft house ideas or even building luxury Minecraft mansion instead. You'll find the best selection of Minecraft castles below, and if you decide you're particularly keen on downloading builds for yourself, you can always check out Minecraft Schematics, which hosts tons of downloadable schematic files for the popular mods WorldEdit and MCEdit.
Easy Minecraft castle ideas
A full castle can be intimidating—and a lot for just starting out in a new Minecraft playthrough—so why not start with something easy? Each of these Minecraft castles are accessible to build, but will still make you feel like a proper knight.
Small gated castle
This gorgeous little castle from Zaypixel hits all the right notes for a cozy little lord or lady's estate. While there's not a ton of space, you'll be the envy of anyone you invite in for tea (or jousting) behind your gate. I especially love the decision to use calcite for some of the tower walls to give it a 'plastered walls' look.
Easy survival starter castle
A perfect little castle keep, this build from Gorillo is made from simple materials like oak and stone that make it accessible from the very start. Clever usage of campfires for smoke effects in the kitchen area and a smart looking checkered pennant are the cherries on top of the perfect medieval look, so don't sleep on building your own version of a homely castle keep.
Minecraft small castle
Grabcraft is a great website for finding Minecraft castle blueprints, and it has a range of small, medium, and large castle designs for you to choose from. We like Louisdepoui's small castle blueprint because it's simple to follow and uses minimum resources. Use the slider under the image to follow the design layer by layer.
How to build a castle
Once you've gotten through the basics of the smaller starter castles, it's time to look deeper into how to build a Minecraft castle for real. These builds will have you living more like a baron than an earl.
Fantasy castle tower
Whether you want to build this whimsical tower as a standalone castle keep, or add it to a larger build, Minecraft Fantasy Builds has a true eye for beauty. While it doesn't bring a lot of storage space on the inside, it's a perfect standalone build, or to put inside your very own larger castle's walls.
Medieval castle
This castle tutorial by Stevler is a great example of a Minecraft castle that looks intricate, but is easy to build. Castles can easily end up looking like a boring square stone box, but Stevler's Medieval Minecraft castle build has a lot of clever design choices. There are towers, bridges, look outs, a stone keep, different levels—just everything you would want in a castle.
Minecraft simple castle
This Minecraft tutorial by Mr.Smoose is a super easy build for a classic medieval castle. Even though there are lots of intricacies to this build, it's all laid out in an easy to follow video and when you're done you'll have a majestic four-tower castle with plenty of space inside.
Minecraft medieval castle
What makes Jeracraft's Minecraft castle blueprints different from other builds is the interior. It might seem intimidating with 30 layers, but the details inside those stone walls will make you feel like royalty. Lots of Minecraft castles have huge, empty interiors, but this build has stairs, different floors, and a variety of rooms that are just waiting to be decorated.
Castle ideas
Maybe you like a challenge, and want to take on a massive build yourself? Or if you're not up for stressing over blueprints and block placements, most of these epic Minecraft castles can be downloaded and explored hassle-free. So make sure your crown is shined up and ready, and read on.
Dark forest castle
While he might call it a mansion, there's no question EWEN has built a splendid castle, and he shares all the insights into how it came together. The castle looks particularly stunning rising up out of the dark forest biome, which is convenient considering how much dark oak the build uses.
Minecraft castles with 1.17 blocks
Why have one castle when you can have four? In this building video, SmallishBeans walks you through the process of constructing four different castles using some of the different block types introduced in Minecraft 1.17, including calcite, dripstone, tuff, and deep slate. It's a great example of how primarily using one block type can still create a distincitive style for your fortress.
Dracula's Castle
If you're in the market for something on the spooky side, Geet Builds' Dracula Castle might help inspire you to create your own. This detailed vampire nest is perched high up on a rocky cliff with lofty towers and includes very own mausoleum—there's even a little gothic hamlet tucked away in the nearby forest.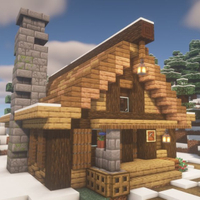 Minecraft house ideas: Base inspiration
Minecraft mansion: Big house blueprints
Minecraft cabin: Snowy abode ideas
Minecraft castle: Massive medieval builds
Falcon's Rock
What if instead of one castle, you could own nine castles in one? Falcon's Rock, a recreation of Medieval era Germany, offers you the chance to do just that, providing a single 'castle' which is actually made up of nine castles, seven villages, one city, and a monastery all inside one larger castle. It is a huge feat of Medieval architecture and is a sight not to be missed. You can jump straight into this Minecraft castle by downloading it from the build's page.
Regrentia
Regrenita by TomatoN is great example of a perfect Minecraft castle. It's pure fantasy mixed with royalty and nothing makes a castle better than two dragons. The giant wall that encases the castle is also a lovely touch.
Steampunk Castle
The Steampunk Castle is a bit different, but since it still has castle in the name, we're counting it. Along with the impressive frontage of the structure, there's lots to do inside. Secrets are scattered everywhere, and there's even a narrative to follow.
Castle and Gladiator Arena
This castle is the one to rule them all. Not only do you have the castle, plus the sizeable grounds it is set within, and plenty more. The arena is a great place to settle old scores, the church is there for all your confessional needs, and there's even a huge tree with oodles of treehouse potential. The Castle And Gladiator Arena has everything you could want from a Minecraft castle.