Planning your Genshin Impact Eula build for version 2.3? This Cryo captain of the Knights of Favonius recon unit enjoys two things: swearing vengeance against people she's just met, and smacking enemies around with her claymore. Eula remains Genshin's greatest physical damage-dealer, dishing out terrifying DPS if you build her right.
More top Genshin Impact builds
Genshin Impact Thoma build: Pyro retainer
Genshin Impact Hu Tao build: Unusual undertaker
Genshin Impact Aloy build: Cryo hunter
Genshin Impact Kokomi build: Divine Priestess
Genshin Impact Childe build: Fatui Harbinger
When she first appeared in June of this year many dubbed her as a 'skippable' character, but now she's back with a vengeance in Genshin Impact 2.3, and players have seen what she can really do. Eula is undoubtedly one of the best Genshin Impact characters, an S-tier damage-dealer who caters to that classic Diluc playstyle.
So if you prefer swinging around a claymore more than messing with bows and catalysts, the Spindrift Knight might fit perfectly in your party. This Genshin Impact Eula build guide has the perfect setup to help you make the most of her physical damage potential.
Builds
The best Genshin Impact Eula build
Eula is a DPS fighter whose greatest strength is her powerful burst and physical damage potential. This build should help you make the most of both:
Physical DPS
Weapon: Song of Broken Pines
Eula's five-star claymore is returning in the first Epitome Invocation banner of version 2.3, and it remains one of the best weapons for her. Firstly, Song of Broken Pines is one of the few claymores that offers a physical damage bonus, as well as boosting attack by 16%.
When you whack an opponent with a normal or charged attack, you gain a Sigil of Whispers. You can stack up to four of these, and when you gain the fourth, you'll get an attack speed boost of 12% and an attack increase of 20% for 12 seconds. If you don't have any suitable four or five-star weapons, the Skyrider Greatsword is a great three-star option, as it also offers a Physical damage bonus.
Artifact: (2) Pale Flame (2) Bloodstained Chivalry
This artifact setup is pretty straight forward as both of these grant the same effect. Unlike most of the artifact sets that boost elemental damage, there are actually two different sets that boost physical output. Two-pieces of Pale Flame and two-pieces of Bloodstained Chivalry combined will increase Eula's physical damage by a whopping 50%, allowing her to really do some numbers.
How to unlock
How to get Eula in Genshin Impact
Eula is returning in Genshin Impact 2.3 on November 24 as part of the new five-star rerun banner. She'll be featured alongside alchemist, Albedo, and if leaks are to be believed, both of these banners will share the same three four-star characters: Noelle, Bennett, and Rosaria. Considering the new Shadows Amidst Snowstorms event involves a variety of Mondstadt characters, it's likely this will prove true.
Abilities
Eula's abilities
Here are Eula's abilities, passives, and Constellations:
Swipe to scroll horizontally
Normal attacks: Favonius Bladework – Edel

| | |
| --- | --- |
| Normal attack: | Eula performs up to five consecutive sword strikes. |
| Charged attack: | Eula uses stamina to perform multiple continuous strikes, ending with a powerful slash attack. |
| Plunging attack: | Strikes the ground from mid-air, damaging enemies in Eula's path and dealing AoE damage to nearby foes. |
Swipe to scroll horizontally
Elemental Skill: Icetide Vortex

| | |
| --- | --- |
| Press Elemental Skill button: | Eula deals a swift Cryo slash, gaining a Grimheart when the hit connects. Eula can stack two Grimhearts and can only obtain them once every 0.3 seconds. Holding Grimhearts boosts Eula's defense and resistance to interruptions. |
| Hold Elemental Skill button: | Eula delivers a forward Cryo slash against nearby foes. The attack converts each Grimheart to an Icewhirl Brand that deals AoE Cryo damage and reduces enemy physical and Cryo resistance. Multiple Icewhirl Brands increase the effect duration, but will not stack. |
Swipe to scroll horizontally
Elemental Burst

| | |
| --- | --- |
| Glacial Illumination | Eula deals Cryo damage to nearby enemies and summons a Light Sword that follows her for a set time. Any damage Eula deals from physical or Elemental attacks charges the Light Sword once every 0.1 seconds. After the timer runs out, the Light Sword explodes and deals physical damage to nearby enemies based on the number of energy stacks it received. The explosion happens immediately if Eula's HP reaches zero or she's switched out. |
Swipe to scroll horizontally
Passives

| | |
| --- | --- |
| Aristocratic Introspection: | 10% chance Eula will receive double from crafting character talent materials. |
| Roiling Rime: | Consuming two Grimheart stacks during Icetide Vortex creates a Light Sword that immediately explodes and deals half the damage of a normal Light Sword. |
| Wellspring of War Lust: | Landing critical hits reduces Icetide Vortex's cooldown time by 0.3 seconds. This can occur once every 0.1 seconds. |
Swipe to scroll horizontally
Constellations

| | |
| --- | --- |
| Row 0 – Cell 0 | Row 0 – Cell 1 |
| Illusion of Light Tide: | Consuming a Grimheart stack during Icetide Vortex increases Eula's physical damage by 30% for six seconds. Consuming an additional Grimheart extends the effect by a further six seconds, and it can only be extended to a maximum of 18 seconds. |
| The Girl of Sea Foam: | Cooldown time for Icetide Vortex's hold mode is shortened to match the press mode cooldown time. |
| Lawrence Pedigree: | Increases Glacial Illumination's level by three, with a maximum increase of 15. |
| The Obstinacy of One's Inferiors: | Deal 25% more Lightfall Sword damage to foes with less than 50% HP. |
| Chivalric Quality: | Increases Icetide Vortex's level by three, with a maximum increase of 15. |
| Noble Obligation: | Lightfall Swords from Glacial Illumination start with a stack of five energy. All attacks have a 50% chance of adding an extra energy stack. |
Ascension materials
Eula Ascension materials
Character
Eula uses a mixture of character Ascension materials. As with most Cryo users, she'll need Shivada Jade from Cryo Regisvine. However, Eula also requires Crystalline Bloom, so you're better off fighting the Cryo Hypostasis in Dragonspine. There are two other world materials you'll also need to ascend her:
Dandelion Seeds
Hilichurl Masks
You can obtain Dandelion Seeds by using Anemo on dandelions around Mondstadt's city limits. The official miHoYo interactive map can show you where they are exactly. and Mask-series items are dropped by regular Hilichurl enemies.
Talent
To level Eula's talents, you're going to need four specific ascension materials:
Teachings of Resistance
Hilichurl Masks
Dragon Lord's Crown
Crown of Insight
The Teachings of Resistance-series items are obtained in the Forsaken Rift Domain on Tuesdays, Fridays, and Sundays. You'll need more Mask items too, which can be gathered from basic Hilichurls.
You also need the Dragon Lord's Crown, which is a reward for the level 70+ Azhdaha challenge in the trounce domain, or can be crafted with a Bloodjade Branch and Dream Solvent. The Crown of Insight, as ever, comes from seasonal events and leveling the Frostbearing Tree in Dragonspine, or the Sacred Sakura in Inazuma.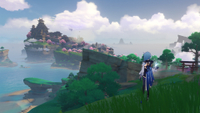 Genshin Impact guide: Beginner tips
Genshin Impact characters: Full tier list
Genshin Impact code: Redeem for free rewards
Genshin Impact build: Best of the bunch